HEEJUNG NAM



The media constantly traffics in stereotypical images of women, and from a young age, women are exposed to the dangers of prostitution and sex crimes. We face misogyny at every turn. Fear turns into anger, and groups of like-minded men develop deep-seated repulsion. Since birth, I have lived in this toxic environment. In my work, I express the complexity and contradictions of this situation by stacking related images and texts. I collect and collage scraps of hateful and anachronistic newspaper articles about women.
Just before the cases, Two sided college,
23.4 x 33.1 in
:
Manifesto, Two sided college, 23.4 x 33.1 in
I also collage articles from 1980 to the present that correspond to the struggle for women's rights. Over the past four decades, many women have publicly voiced their dissatisfaction with the climate in Korea. In order to break down the power of the establishment and the indifference of the public, I am trying to open a declaration of revolution and confront viewers with protest posters.




Floral Patterned Romance


Dadaepo (meaning "big and wide port"), well known for its Rainbow Industrial Complex, is located on the outskirts of
Busan. The performers in this film are thirteen local middle-aged women working at the Complex.

The 5 dance-film works were made in Busan, Osan, Daejeon, Cheolwon DMZ and Yangpyeong, Korea with the women. The project started from my interest in my mother's generation. Women from my mother generation, who were born right after the Korean War, have married via 'seon (meeting each other with a view to marriage)' and have sacrificed themselves for their husbands and children. Even after menopause and the marriages of their children, a number of them still earn bread for their families.

Women, who are still comfortable being called as someone's wife or someone's mom, have found 'beautiful' themselves, despite the fact it was only temporary. Some were happy as if they were children, and some wept with their mind deeply touched. For the past year, through my project, I have met with a total of 100 women who are at the age between 50 and 60. For a few days to a few months, I have worked with them together, and, as my project came to an end, we cried together feeling sorrow. Through their lives, which lasted with the history of Korea for decades, we had a moment to remind ourselves about the lives of our mothers and their generation.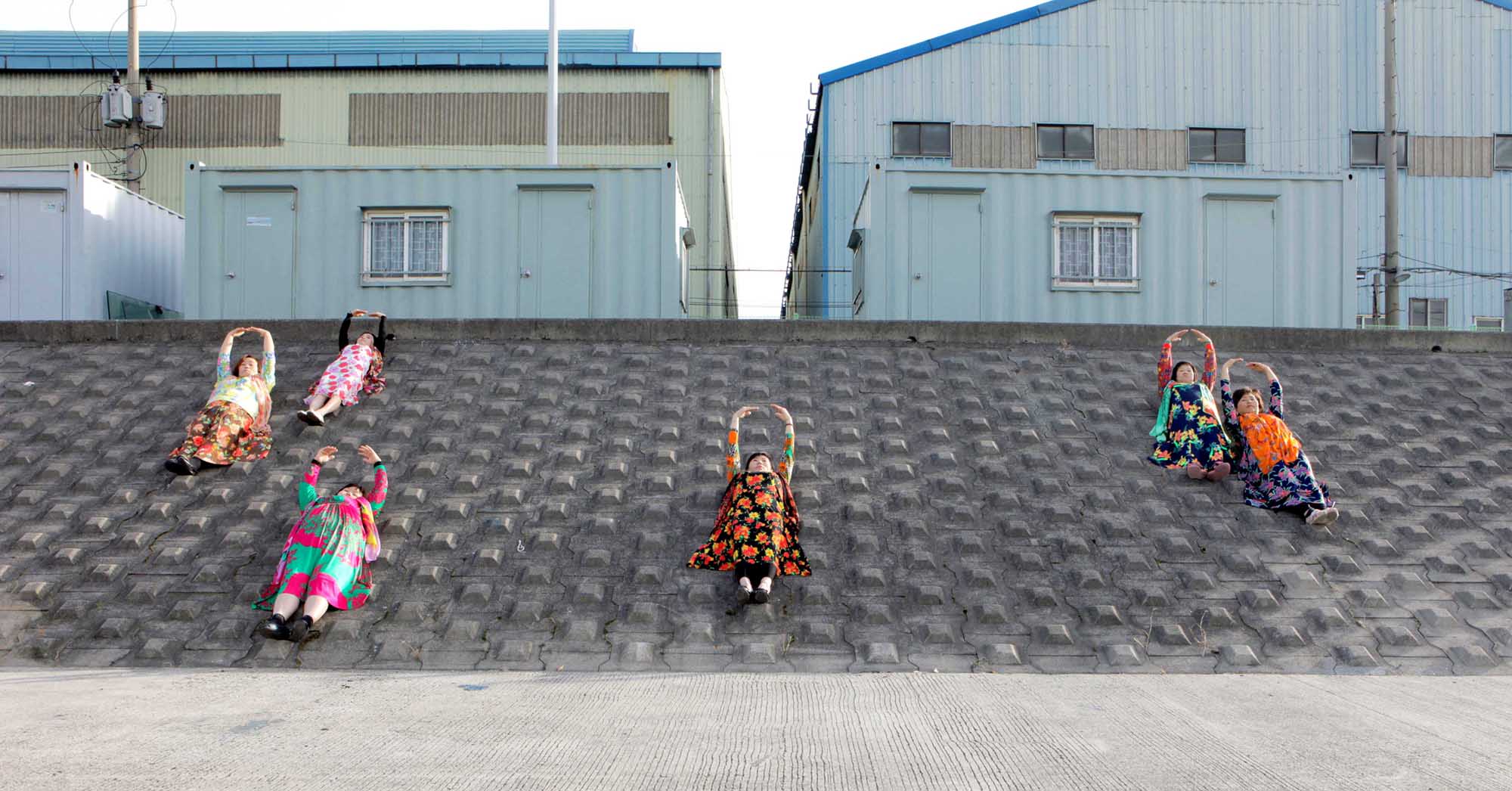 Single channel video, 6mn 51sc, Rainbow Industrial Complex,
Busan, South Korea, 2014
SUNWOO
JUNG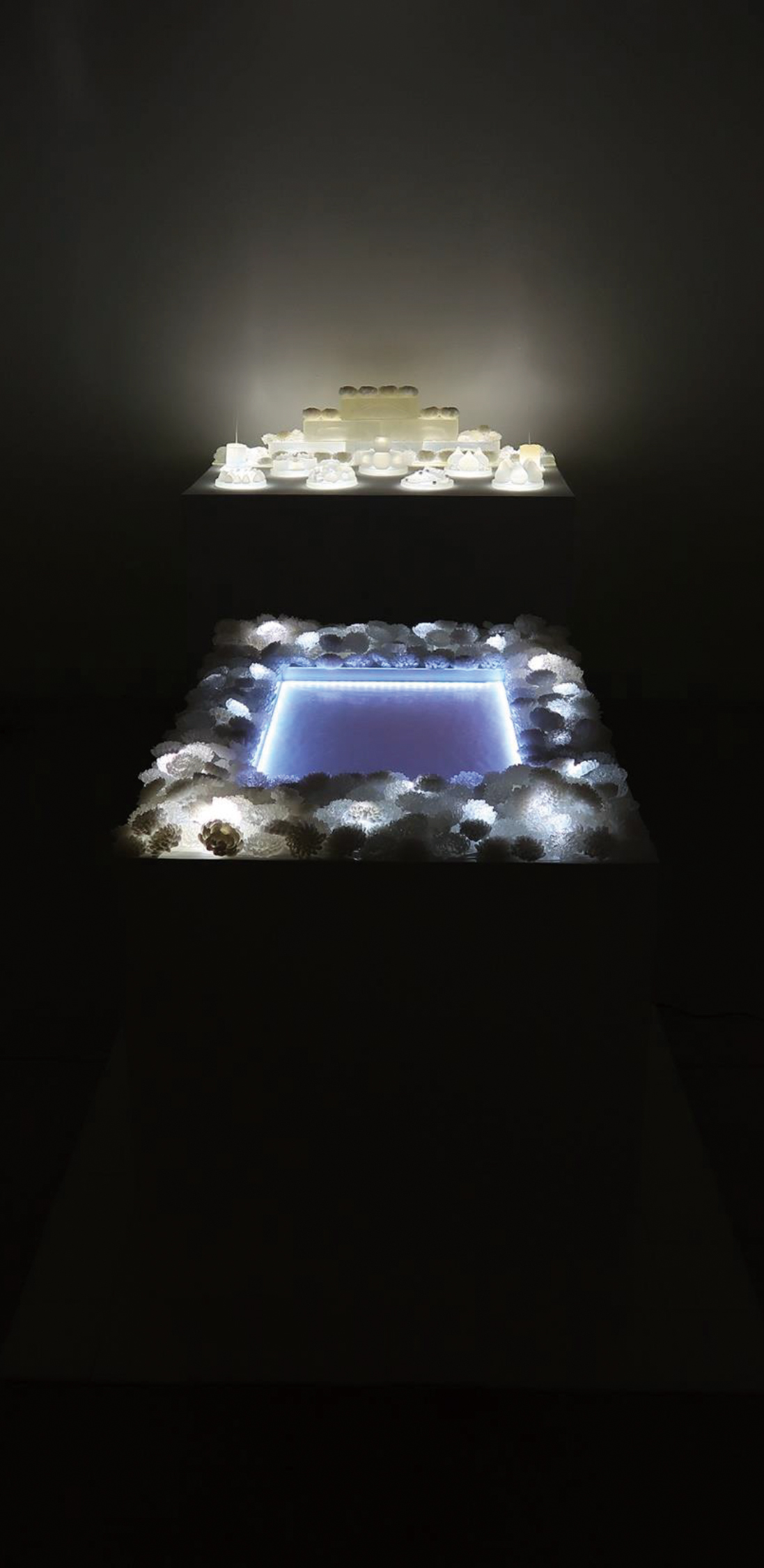 Untitled, 2019, Water, soap, lights and wood,
Dimension vary








In South Korea, there is a culture of holding memorial service for one's ancestors to commemorate and respect their ancestors, which is based on Buddhism. Women in the household prepare food for commemorative rites, and men lead
Women who even believe in Christianity need to participate in ritual ceremonies for ancestors. The man is in the center of ancestral rites even though ancestral memorial ceremonies stand on the basis of women's sacrifice and devotion.

Sunwoo made this installation to respect women's sacrifice.



GYEONGYEON
KIM
Vagina meat, 20×28 in, Acrylic on canvas, 2019

Gyeongyeon Kim has come to feel that there is a connection between meat-eating and misogyny as she lives as a feminist and a vegetarian. Misogyny has long been taken for granted in our society: Women are expected to wear makeup, smile, and be skinny. Of course, as feminist discourse has become more widespread, many women have begun breaking these stereotypes.
However, misogyny still circulates everywhere in our society—as omnipresent as the air we breathe. Consuming meat is similarly taken for granted under the pretext of normal dietary protein intake. Women suffer misogyny under a male chauvinist society, and animals suffer abuse and death under a carnivorous society.
Vagina meat
, 57×44 in, Acrylic on canvas, 2018







Gyeongyeon has sought to express this clear intersection between feminism and veganism in her work. To do this, she has created "vagina meat" paintings, combining images of slabs of animal flesh with female anatomy. Gyeongyeon uses the bright simple colors and strong outlines of cartoons to make these "Vagina meat" images seem a little more familiar, and presents them in a variety of formats, including sculpture, digital painting, and consumer goods.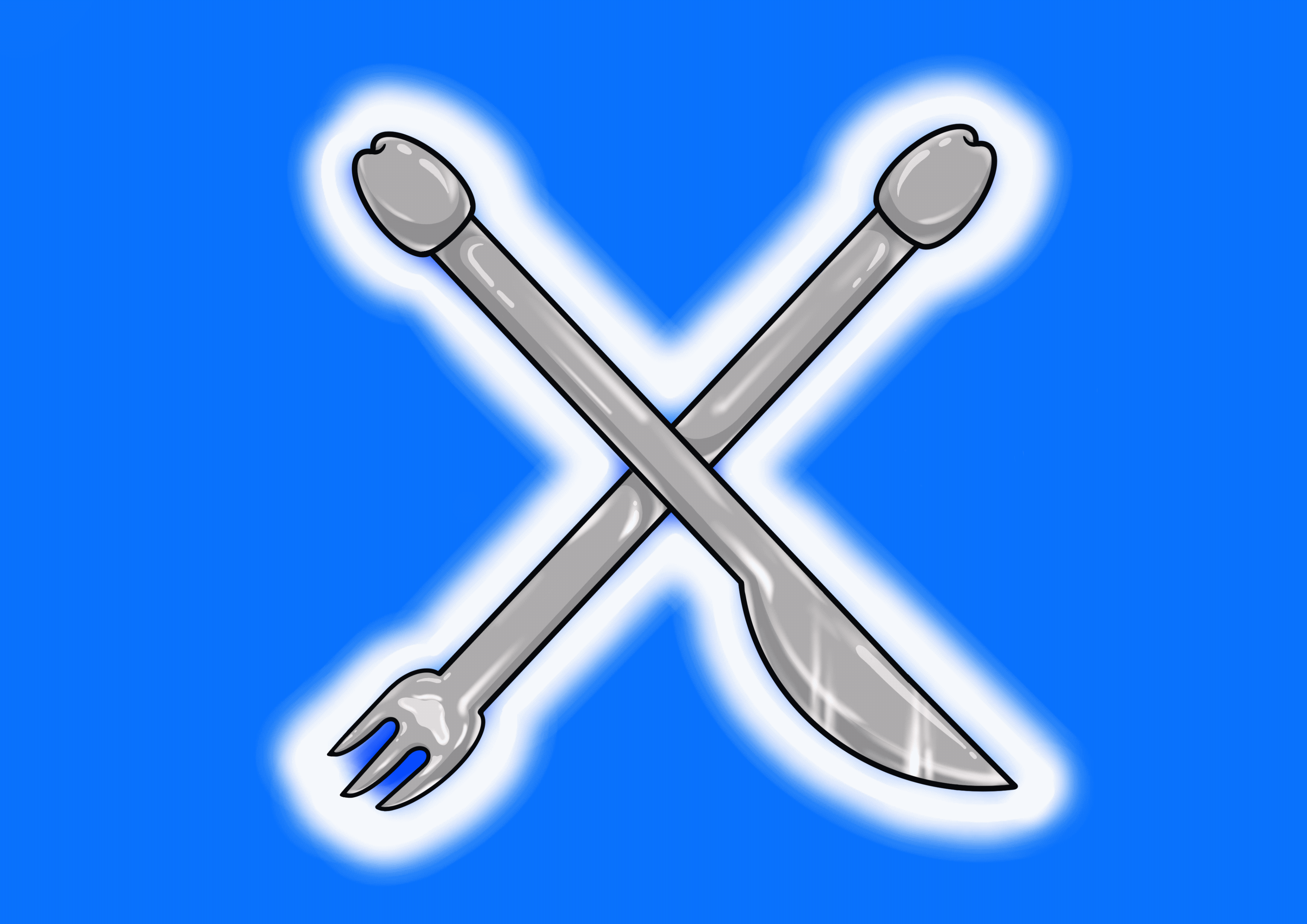 Tool
, Digital painting, 0'10'', 2020
Vagina meat
, 18x18 in, Acrylic on canvas, 2018
FoF(Flies on face) filter

How to use the FoF filter?


Follow @gangerouss and try the face filter ! Then tag @gangerouss on your instagram story :)
Flies fly everywhere, 44x57 in, Acrylic on canvas, 2019
Just watching without the thoughts of watching.


After the 1997 IMF bailout had adverse effects on South Korean citizens and the economy, most of the media expressed this as a man's disaster. What the media and society wanted for the family was a wife supporting a man simply by doing housework. But it was impossible for only a man to work to feed a family in the aftermath of the national disaster—meaning women needed to take care of the home and find paid employment, too.. Despite this, most Koreans continued to think housework is for women and working outside the home is for men.


Until recently, women have continued to spend most of their time on chores around the house. Yet the majority have also performed some paid jobs to help put food on the table. These outside positions for women have typically consisted of the same type of labor as their housework—such as cooking, cleaning, and other manual service work.





It is evident that housework performed by men on the weekday only reaches 10% of that performed by women, and the number of women who perform outside work is 20% less than that of men—and they receive only 63% of men's wages for equivalent work.


Even though gender discrimination clearly still exists in the labor market, Korean men in their 20s and 30s say they are facing "reverse discrimination."










This work reflects how the division of labor by gender ignores women's achievements and the reality of daily life. The work focuses in particular on female workers in our mother's generation.

Single channel video, 5mn 50sc, 2019
---
Safe House 2020 — Curated by. Sungah Kang